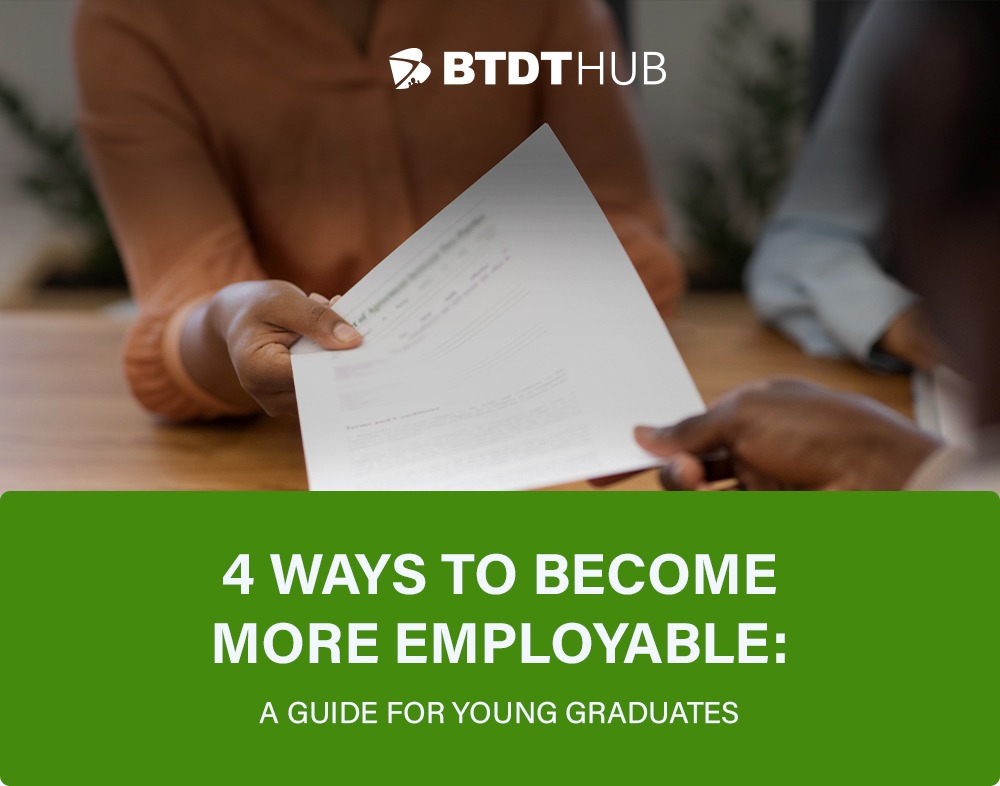 Do you know that universities and polytechnics across Nigeria admit close to  2 million students and produce over 600,000 graduates every year? While this is an impressive record, statistics from the World Bank show that over 15.3% of Nigerians with advanced education are unemployed.
Undoubtedly, the University coursework (or activities) will help you develop some necessary skills you need to navigate the labour market. However, you need more than a degree certificate to thrive and become employable in today's highly competitive market.
This article presents 4 tips to make young graduates more employable and stand out from the crowd. It also serves as a guide for young professionals looking to land their dream jobs.
#1 : Brush Up Your Skills
It is good to have a degree, but it is even better if you have the skills required in the industry you intend to serve. For example, say you are a Mechanical Engineering graduate looking to work in the Machine Design and Manufacturing Industry. It would make sense to know at least something about computer-aided design (CAD), right?
Likewise, an accounting graduate should have analytical and problem-solving skills, time management and system analysis skills. Adding all these skills to your qualifications will make you more credible in the eyes of a potential employer.
#2: Build Your Network
Networking is among the best ways of becoming more employable. As a young graduate, you want to join forums and groups dedicated to the industry or profession you are interested in. Also, there are social media platforms you can leverage to build your network, but LinkedIn tops them allㅡthe platform has over 740 million users and over 55 million registered companies.
And to leverage LinkedIn, you want to optimise your LinkedIn profile, make connections, share ideas, opportunities, resources, and provide help to the best of your ability.
"Networks and networking will get you to the top faster," says Dr Dipo Awojide in a recent tweet. You would be surprised by how valuable your networks can be in landing you that dream role.
#3: Keep Your CV Up-to-date
You need to craft a winning CV to showcase your skills and experiences to potential employers, as your CV is the document that describes you and what you can do. Hence, it is necessary that your CV gives a positive and memorable impression about you to the recruiter.
As a rule, you are required to update your CV regularly, research job requirements of target roles, and tailor your CV to the job description. You should also avoid spelling and grammatical errors in your CV.
#4 Seek Advice from Professionals
Another key way to become more employable is to seek advice (or mentorship) from professionals in your field. These professionals have been in your situation and have learned from the school of hard knocks. They can help you stay on track with industry trends and provide you with helpful resources to stay ahead of your peers.
At BTDT Hub, we have a team of highly qualified and experienced professionals to help you craft a winning CV, Cover Letter and LinkedIn Profile. We have reviewed over 20,000 CVs for young graduates and professionals across a broad range of industries.
Visit Personal Branding to learn more about our CV writing service. To get started, send an email to INFO@BTDTHUB.COM