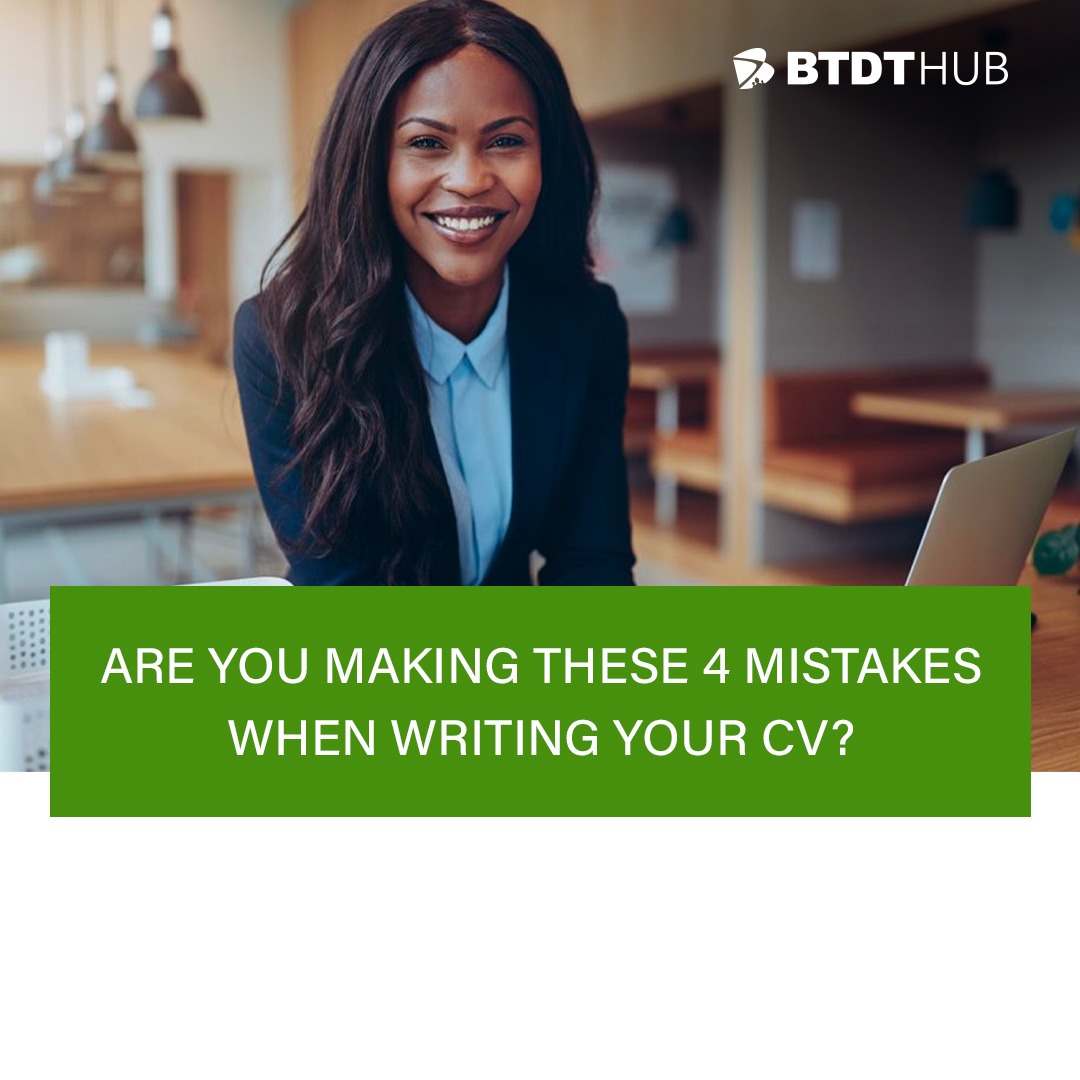 If you are looking to get an entry-level position in a particular company, you would have to create (and submit) a curriculum vitae (CV). Your CV is simply a detailed summary of your educational background, qualifications, previous jobs, and sometimes your personal interest. As simple as this document might appear to be, a lot of work goes into crafting an excellent CV that stands out and increases your chances of getting invited for an interview. There are several things you need to keep in mind and a ton of mistakes you must avoid when crafting a CV. In this article, we discuss four common mistakes to avoid when writing your CV. 
Mistake #1: Not Tailoring your CV to the Job
Mistake #2: Spelling and Grammatical Errors
Mistake #3: Placing Responsibilities Over Achievement
Mistake #4: Poor CV Format
Mistake #1: Not Tailoring your CV to the Job
"You cannot use the same CV used in applying for a Procurement role to apply for Marketing or a Lecturing role," – Dr. Dipo Awojide, in a recent tweet.
A CV is not a one-size-fits-all document. It should not contain everything or every activity you have been involved in. Instead, you want to craft a CV that outlines the relevant skills and experience needed for the job you are applying for. Many recruiters and hiring managers now use the Applicant Tracking System (ATS) — a software that scans and ranks all of the applications and CVs — to vet applicants. If your CV doesn't pass the ATS test, you can be sure that it will be discarded before human eyes even see it. For someone looking to apply for several job positions, it can be overwhelming to create a new CV from scratch for every job posting. 
Not to worry.  "You can have four versions of the same CV. The trick is to change the keywords to suit the specific role you're applying for," says Dr. Awojide.
Mistake #2: Spelling and Grammatical Errors
Another common mistake made by job applicants includes having tons of spelling and grammatical errors in the CV or other application documents. No matter how properly formatted your CV is, spelling mistakes can mar your chances of landing that interview invite. One way to check for spelling and grammatical errors is to proofread your CV, using tools like Grammarly and Microsoft Office Spell Check, which offers you specific suggestions to improve your writing. 
However, a challenge with using these spell-check tools is that they are unable to detect misuse of incorrect words. For example, the use of "diary" in place of "dairy" might go unnoticed. Hence, it is always a good idea to review your CV and have a CV writing expert take a look at your CV to spot all these errors.
Mistake #3: Placing Responsibilities Over Achievement 
A perfect CV should not just highlight what you did, it should also show how well you performed your duties and the results you achieved. At BTDT Hub, we always recommend that you follow what we call the PAR (Problem-Action-Result) formula. 
For example, instead of writing "Responsible for implementing email marketing strategies," you should write something along the lines of "Spearheaded a comprehensive marketing strategy for a new line of products." 
Keep in mind that we do not encourage you to lie or exaggerate your duties, responsibilities, and achievements. Instead, we want you to take the time to assess each of the activities you performed and quantify your achievements with numbers. If it is impossible to quantify your achievements, you should include how your activities helped the organization or client you worked for.
Mistake #4: Poor CV Format
One thing to always keep in mind when writing a CV is that there are over 100 applicants trying to get the same job you are applying for. As such, the hiring manager (or employer) typically skims through each CV for a few seconds before deciding whether to read it or proceed to the next applicant. One of the factors that influence their decision is the CV format. Many applicants make the mistake of following (or using) the conventional chronological CV format available online.
Don't get it twisted. There is nothing wrong with the conventional CV formats available online. But they are not just suitable for all kinds of job postings. For example, the CV for a Software Engineering role should better showcase your core competencies, skills, projects, and work experience rather than your educational background. Likewise, an academic CV for a Research role should better showcase your research experiences, educational background, and research skills.
Ready to craft a Winning CV, we can help you
While this article presents information to help you craft a winning CV, we understand that you may not have the time and competency to do it yourself. At BTDT Hub, we have a team of highly qualified CV Advisors and Human Resource Professionals capable of reviewing and crafting your CV to increase your interview chances. We have reviewed over 20,000 CVs and resumes for professionals across a broad range of industries and several of these professionals have landed their dream jobs. 
Visit Personal Branding to learn more about our CV writing service. To get started, send an email to INFO@BTDTHUB.COM.