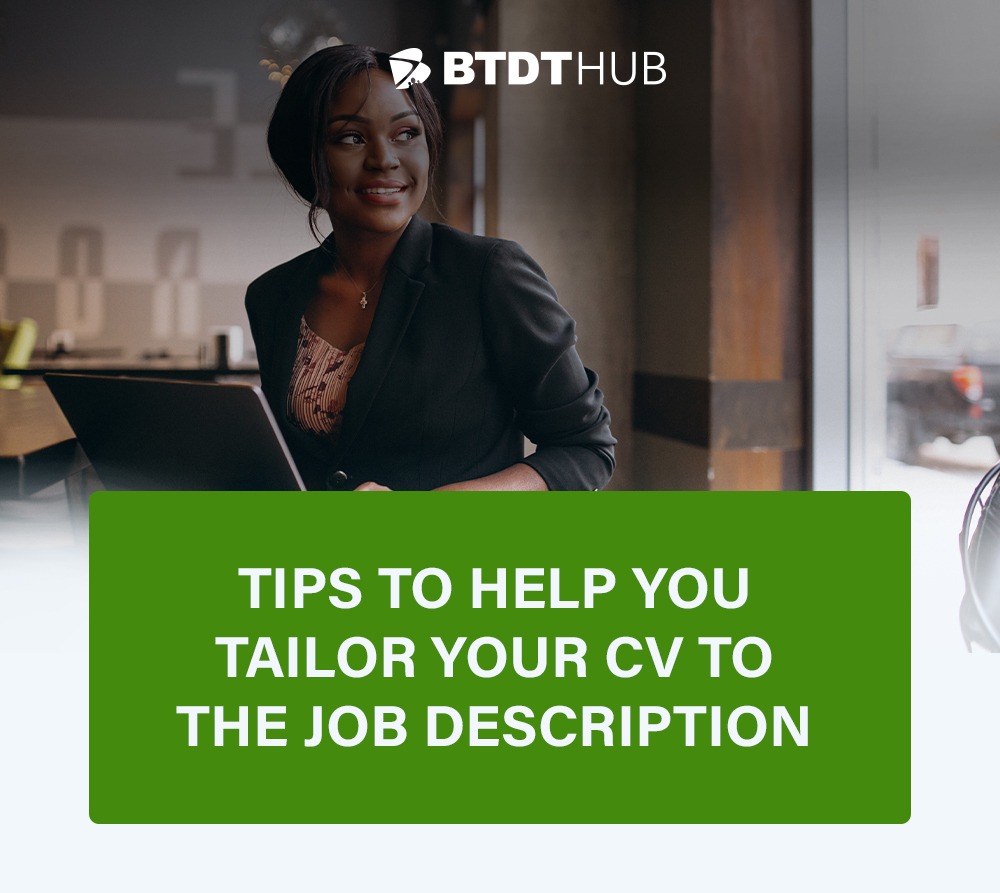 Have you seen a recent job posting that you are interested in, or are you looking to land an open position in a company? If so, you are likely required to submit a CV along with your application.
Given that the hiring managers will receive hundreds of CVs for that same role, the best way to get noticed as a candidate is to tailor your CV to the job description.
This article presents helpful tips to tailor your CV to the job description. But before we delve right into it, you need to understand what tailoring a CV entails.
What is Tailoring a CV?
Tailoring your CV means writing your CV to align with the list of responsibilities, skills and qualifications needed for the job.
Look at it this way. When an employer posts a job opening, they usually specify a list of skills, qualifications, and responsibilities required from the candidates. A tailored CV simply proves that you satisfy all of these requirements and can do the job. It emphasises the employer's need and demonstrates your alignment with the job.
However, keep in mind that you are not required to lie about your skills and responsibilities. Instead, you want to look at your relevant skill set (and responsibilities) and show the recruiters how you have previously used them to create optimal results at work.
Now let's talk about some tips to help you tailor your CV to the job.
Tailor your CV to the Job Description with these 3 Tips
Tip #1: Read the Job Description
Nothing beats research when writing a CV for a particular job opening. You must understand what the employer wants and the skills required to perform the job, and the most effective  way to know this is to read the job description thoroughly.
When reviewing the job description, take note of specific requirements like years of experience, skills, education, training and responsibilities.
Once you have all of these requirements on paper, take a moment to compare them with your general CV. As a rule, take note of those requirements that you satisfy and place them at the top half of your CV, so they are instantly visible to the recruiters.
Tip #2: Include Measurable Outcomes of your Responsibilities
To effectively outline measurable outcomes in your CV, highlight your achievements over responsibilities. A good way to do this is by identifying the problem or situation that prompted the action; the duties required to resolve the problem or situation; and the impact achieved – with respect to improving efficiency, increasing sales, reducing costs, or all of the above. For example, instead of writing "responsible for increasing customer retention," you can write this instead – "increased customer retention by 20% through efficient service delivery" This emphasizes key details and measurable outcomes, which instantly grabs the attention of hiring managers.
Tip #3: Write a Killer Summary
Because the summary section is located at the top of your CV, it is almost always the first thing that the hiring manager sees. If written well, it works like a sales pitch and grabs the hiring manager's attention. As a rule, emphasize your skills and career progress in your summary. You should also include keyword skills and responsibilities in your summary to tailor it to the job description.
Do you want a tailored and achievement-based CV that can land you that dream role? Let us help you review your CV.
To get started, send a DM or an email to INFO@BTDTHUB.COM