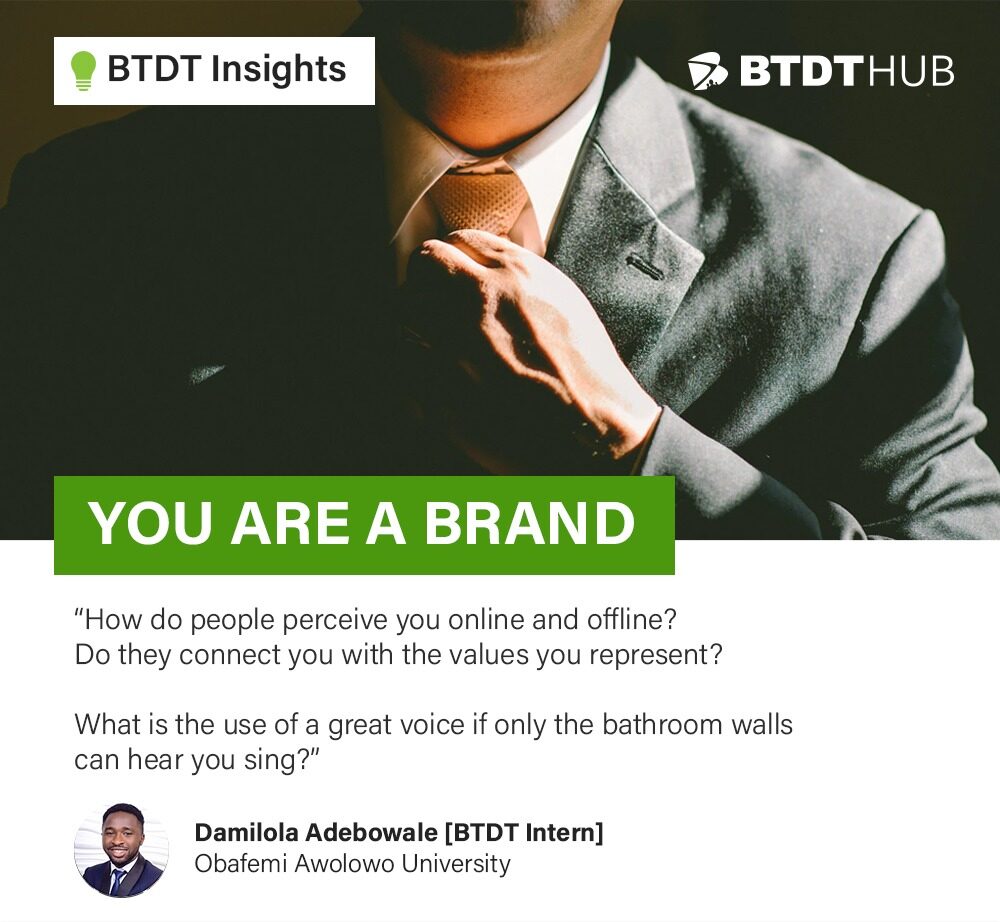 How do people perceive you online and offline? Do they connect you with the values you represent? Personal branding is the deliberate decision to create a popular perception about oneself, promoting your uniqueness, and building a reputation.  It is about seeing yourself as a marketable product, whether online or offline and consciously choosing how people connect with you and your values.
Importance of Personal Branding
If you do not brand yourself, others will do it for you.  Your personal brand defines who you are, showcases your knowledge, and depicts what you represent.  You are a brand, whether you know it or not, so it is best to be in charge of your brand identity by creating a compelling brand story that will establish the kind of perception you want. 
Personal branding helps you stand out from everybody else and your brand attracts people of your kind.  It also helps you build trust with people that matter and connects you with people who share similar thoughts and values.  Indeed, a good personal brand can help you build blocks that will lead to success and open doors to great opportunities for advancement in your career. 
Consequently, building a personal brand broadens your employability opportunities, as it sets you apart from other candidates and highlights your value.  It also helps build your status as a thought leader in your industry, as people will come to you for industry insights and knowledge, thus ensuring increased visibility online and offline.
Tips for Developing Your Personal Brand
Here are 3 tips for building your personal brand:
To develop a brand identity that is in line with who you are, you have to understand who you are and consciously build an identity that resonates with your knowledge, not one solely based on profitability. 
Identify your core skills and interests, and focus on being the best in the selected field.  It is not a practical approach to be an expert in all fields, hence defining a niche makes it easier to focus on being the best in a smaller field.
Identify your target audience
"What's the use of a great voice if only the bathroom walls hear you sing?"
After carving your niche, ensure to identify the community you want to engage with.  Your target audience is generally made up of:
People interested in what you know and represent

People willing to pay you for what you know and represent

People available to influence those who will pay you for what you know and represent
Always remember that your brand cannot be appealing to everyone.  Therefore, for your intended audience to give regard to what you are offering, you need to engage with your audience and design relatable content.
Be active on social media
Personal branding extends to offline reputation, but having a social media presence ensures that you are always visible and at the forefront of your networks' feeds.  Hence, ensuring effective and efficient use of social media platforms will help you promote your brand and increase your reach.
On a platform like LinkedIn, which is swarmed with potential candidates and active recruiters, maintaining a good and consistent personal brand can connect you with recruiters and other available opportunities in desired fields.  
Written by Damilola Adebowale
BTDT Intern (Obafemi Awolowo University)
BTDT Insights is an initiative of BTDT Hub, a leading human capital development company focusing on careers advisory, recruitment services, corporate training, and employability services.
DISCLAIMER:  This article only provides general information and insights on the subject matter.  It does not by itself create a client/consultant relationship between readers and BTDT Hub.
We are available to provide expert career/business advice and services on specific circumstances via INFO@BTDTHUB.COM 
EDITORIAL TEAM
Oluwatayo Dada (Chief Operating Officer)

Odunola Oyeyipo (Product Manager)