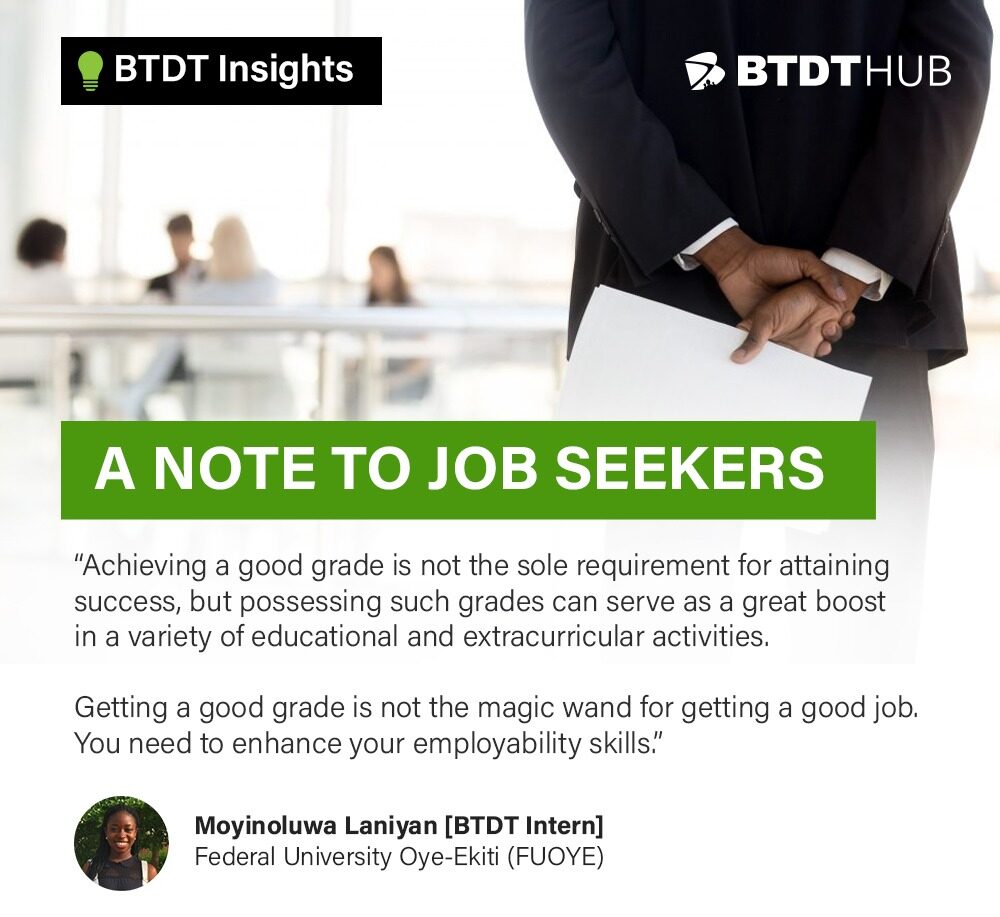 Being a job seeker could be frustrating, especially when you've been at it for quite a while.  All you wish for is one opportunity – just one employer to give you a chance to prove your worth.
The job-seeking phase is inevitable for a large number of recent graduates and young professionals.  However, implementing necessary techniques and tips may ease the burden and uncertainty attached to this phase. 
Here are 4 tips to help enhance your employability.
This tip is applicable to students currently enrolled in tertiary institutions and with feasible chances of striving for higher and better grades.  Achieving a good grade is not the sole requirement for attaining success, but possessing such grades can serve as a great boost in a variety of educational and extracurricular activities.  
Do not join the league of people who assert that 'school is a scam'.  Education paves the way and you can strive to be the best in your desired field.  
Invest in your personal development 
"Grades will open doors for you but you have to fight to sit at the table.  Fighting means acquiring hard skills as well as soft skills to prove your worth" – Tobiloba Aminu (LinkedIn comment).  
Getting a good grade is not the magic wand for getting a good job.  You need to enhance your employability skills by taking courses or training to improve your skills and demonstrate your initiative and organizational skills to employers.  
Taking an online short course or a professional course is a great way to improve your employability skills.  There are a wide range of free and paid courses to help improve your technical knowledge and develop core soft skills.  There are also case studies and online resources to help actively practice problem-solving skills, effective communication, teamwork, and other soft skills necessary within and outside the workplace. 
It is worthy to note that understudying mentors can also help improve your learning and employability.  To be prepared for the world of work, it is necessary to research active and key players in the industry, read interviews, articles, and other published works, and deduce lessons and tips, as may be relevant to your workplace or career path.
An average recruiter or employer spends less than 5 seconds on each CV at a first glance and only CVs that catch their attention would be given 'more seconds'.  The goal of every applicant is to give your CV the chance to be looked at more than once. 
Spend extra time reviewing your CV and ensure that it adequately sells your skills.  Does it contain unnecessary or inaccurate information? Is it formatted correctly? Does it showcase your core skills and experience?  Does it include transferable skills garnered from internship or volunteer experiences?  Does your CV demonstrates criteria or skills required by the job description?  Does it contain errors or typos?  
A well-crafted CV can give your application fair leverage, thus improving the chances of receiving an interview invite or favorable response.
Engage in active networking
Networking involves engaging with people from different fields and diverse industries, whether offline or online.  Therefore, building a strong base of professional networks can help develop your career in the right direction.  You can also interact with experts from different industries, who can help provide valuable inputs with their varied knowledge and skills.  LinkedIn is highly recommended for professional networking, both at national and international levels.
Networking is important for everyone who wants to grow.  The trick to getting the best out of networking is to intentionally cultivate the habit of networking, rather than trying to hunt down opportunities.  Therefore, it is important to always develop online and offline networking skills early and not only when searching for jobs or opportunities.
Remember that you require a strategy for an effective job search and there is more to a job search than simply applying for online postings.  A good number of job search techniques include utilizing your network and targeting specific opportunities in selected industries.
On a final note, there are chances that you will be turned down for a role and you need to deal with the rejection positively, though this is never a fun experience.  Do not regard the rejection mail as a negative statement about you.  Instead, focus on improving your strengths and this will provide the renewed energy and momentum you need to find the job that is right for you.
Written by Moyinoluwa Laniyan
BTDT Intern (Federal University Oye-Ekiti )
BTDT Insights is an initiative of BTDT Hub, a leading human capital development company focusing on careers advisory, recruitment services, corporate training, and employability services.
DISCLAIMER:  This article only provides general information and insights on the subject matter.  It does not by itself create a client/consultant relationship between readers and BTDT Hub.
We are available to provide expert career/business advice and services on specific circumstances via INFO@BTDTHUB.COM 
EDITORIAL TEAM
Oluwatayo Dada (Chief Operating Officer)

Odunola Oyeyipo (Product Manager)