Careers, Employability & Enterprise Services
Services for Universities & Colleges
We help University students develop useful practical lifelong skills. We provide bespoke seminars and masterclasses to improve and increase their employability and enterprise skills. Our services make students become super-employable or business oriented thus providing them significant advantages in their personal and professional life. Our topics include:
Knowing Yourself/Exploring Career Choices: Confidence, Self-Esteem, Skills Audit, Personal Development Plan and Managing Your Career
Developing Employability  Skills: Report Writing, Emotional Intelligence, Effective Presentation and Public Speaking, Personal Effectiveness, Improving Problem Solving, Critical Thinking and Commercial Awareness
Personal Branding: Creating a Winning CV, Cover Letter, LinkedIn Profile and Effective Networking
Job Hunting: Application Forms, Acing Interviews and Assessment Centres
Study Abroad: Self Sponsorship/getting a Postgraduate (MSc/MBA/PhD) Scholarship abroad.
CV/Cover Letter Upgrade and LinkedIn Profile Optimisation
You need a top-quality CV that attracts prospective Headhunters and Recruiters. Send a copy of your CV to us and one of our experienced reviewers will help upgrade it to ensure it is viewed more positively. We will also write a Cover Letter from scratch. 
Optimising your LinkedIn Profile matters because the number one activity on LinkedIn is viewing profiles. With an optimized profile, you will rank higher in LinkedIn searches by Recruiters, Head-hunters and hiring Managers, resulting in more job opportunities. We know what recruiters want and can help craft a unique profile that stands you out from the crowd. Our process involves learning about your core skills, achievements, qualifications and aspirations. We will subsequently optimize your profile which will result in increased views and more job opportunities. Turnaround time is between 3-5 working days.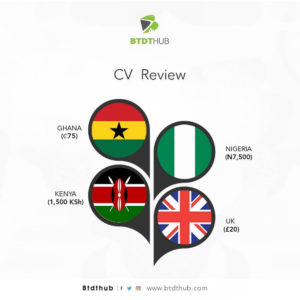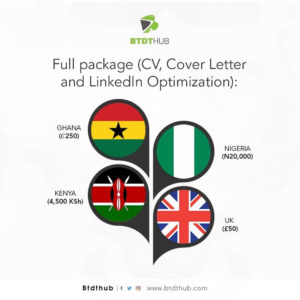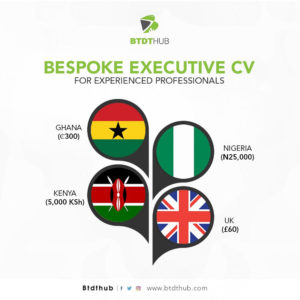 If you are going to impress at your next interview, you need to be thoroughly prepared! We organize interview skill seminars and mock interviews which focuses on Improving Presentation and Communication Skills, Improving Confidence, Improving Body Language and Personal Appearance. Alternatively you can get in touch for an Interview Preparation Pack.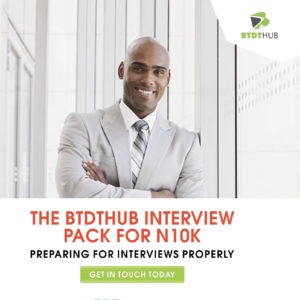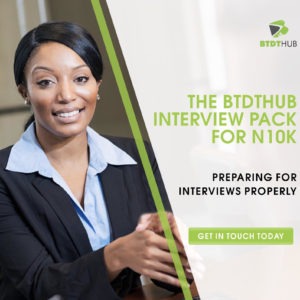 Business Plan Writing Service
A good business plan describes your business strategy and lays a foundation for success for your business. It can be used to help convince investors and banks to invest in your business. It covers an executive summary, an elevator pitch, products or services, competitor analysis, pricing strategy, marketing and sales strategy, and a financial forecast. Contact us for an investor ready, detailed and comprehensive Business Plan with 5 Year Financial Plan to clarify your ideas or wow investors.
Interested in our service?